Tony Danza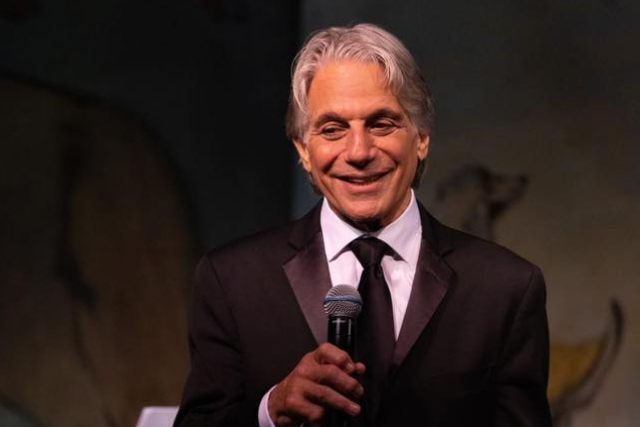 Born and raised in Brooklyn, New York, Tony is perhaps best known for his starring roles on some of television's most cherished and long-running series, including Taxi (1978–1983) and Who's the Boss (1984–1992), Tony Danza has been one of America's most iconic and beloved performers for over forty years.
Tony most recently starred in the Netflix original series, The Good Cop, along with Josh Groban. The series was written by the creator of Monk, and is now streaming world wide on Netflix.
An established song and dance man, Tony and his four-piece band regularly entertain audiences around the country with their hit live show, Tony Danza:Standards & Stories. The New York Times raves "Tony's a live wire who tap-dances, plays the ukulele, tells stories and radiates irresistible charm" He exudes the kind of charisma that can't be taught!". Combining timeless music with wit, charm, storytelling, and a dash of soft shoe and ukulele performances, Tony performs a selection of his favorite standards from the Great American Songbook while interweaving stories about his life and personal connection to the music. For information on where you can next see the show, please go to the show page: Tony Danza: Standards & Stories.
Amongst his many film credits are Angels In Outfield, She's Out of Control, Hollywood Knights, Don Jon, Crash, and A Brooklyn State of Mind.

On Broadway, Tony most recently received rave reviews for his performance in the critically acclaimed Broadway musical comedy, Honeymoon In Vegas, with the New York Times calling his performance "sly genius," and a "career high". With music and lyrics by Tony Award winner, Jason Robert Brown (Parade, The Last Five Years), the musical is written by Andrew Bergman (Fletch, The Freshman, Blazing Saddles, Soap Dish, The In Laws) and based on the hit Castle Rock / New Line comedy of the same title. Both the show and Tony's performance received amazing reviews, including a love letter from The New York Times, which compared his performance to his idol, Frank Sinatra.
Tony's previous stage credits include Wrong Turn at Lungfish (1993), for which he earned an Outer Critic's Circle Award nomination, critically acclaimed The Iceman Cometh, Arthur Miller's Tony Award–winning play A View from the Bridge, and I Remember You.
Among Tony's previous television credits is There's Johnny (2017), which is currently streaming on Hulu, CBS' dramatic series Family Law (2000–2002), his Emmy-nominated performance on David E. Kelley's award-winning series The Practice (1998), and ABC's The Tony Danza Show, a talk show that was broadcast live in New York from 2004–2006. He also starred in and executive-produced the ABC comedy series Hudson Street, NBC's The Tony Danza Show, hosted Saturday Night Live on multiple occasions, and hosted numerous award shows, including the 2001 Miss America Pageant and the 2003 People's Choice Awards.
Prior to his professional career as an actor, Tony attended the University of Dubuque in Iowa on a wrestling scholarship and earned a bachelor's degree in Education. Before finding a job teaching, he found himself earning a living as professional boxer. While training in a boxing gymnasium in New York, Tony was "discovered" and ultimately cast in the critically acclaimed ABC series Taxi, earning him a place in television history and making him a household name. He followed Taxi with his starring role in the classic ABC comedy series Who's the Boss?, which ran for eight seasons and broke all syndication records.
In 2009, Tony returned to what he studied in college and took on his most challenging role yet—teaching tenth-grade English at Philadelphia's Northeast High School. His amazing experience working as a teacher for a full year was filmed and aired on A&E in the form of the critically acclaimed seven-part documentary series, entitled Teach. In September 2012, Crown Publishers (a division of Random House) released Tony's book, I'd Like to Apologize to Every Teacher I Ever Had: My Year as a Rookie Teacher at Northeast High, a much buzzed about and critically acclaimed reflection of his experience teaching for a year. The book premiered on the New York Times Best Sellers list at number 16 and stayed on the list for two months.
Tony currently lives in New York City, where he is extremely active in a number of NYC based charities and community programs, including The NYC All Stars Program and as a board member of NYC P.A.L. In recognition of his commitment to help and enrich the lives of others, Tony has received numerous honors, including the 2010 Inspire Award from AARP The Magazine, the definitive voice for 50+ Americans and the world's largest-circulation magazine with more than 35 million readers. The Inspire Awards pay tribute to extraordinary people who inspire others to action through their innovative thinking, passion and perseverance. And in 2013, USA Today honored Tony at their annual National Make A Difference Day Awards for his commitment to helping others through his numerous charity efforts. At the 2019 ADAPT Leadership Awards, Tony was honored with the Hausman Humanitarian Award in recognition of his exceptional humanitarian contributions to the community.
Social Links