The Faragher Brothers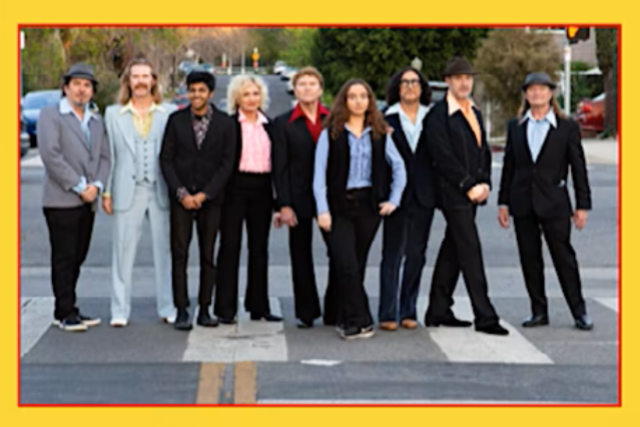 A little about the Faragher Brothers....
The Faraghers, a family of 10, which included eight siblings, grew up in a Victorian house in Redlands, 65 miles east of Los Angeles. In that loving old house, live music was always playing and music was a way of life. A funky upright piano and doo-wop records were their main source of entertainment. As children, the siblings collaborated on original songs and performed for fun.
In the late 60's older brothers Danny and Jimmy left for Hollywood to make hit records with their group The Peppermint Trolly Company, followed later by their group Bones. The younger brothers, Davey and Tommy, were busy writing songs and performing in their own
bands back in Redlands. As a natural progression, the four brothers got together as a family band in the mid '70's to form the Faragher Brothers. They started writing and practicing in the basement of the old house, getting their songs ready to shop around. Eventually, they signed a production deal with Richard Perry, who secured an album contract with ABC Records.
Their first album (sometimes referred to as "The Yellow Album"), produced by legendary producer Vini Poncia, was very well received, and they subsequently toured and performed with acts such as Tower of Power and Rufus. After recording two albums for ABC they signed with Polydor Records, adding the talents of sister Pammy (vocals) and brother Marty (drums) for two more albums.
In addition to their own recordings, The Faragher Brothers have worked with some of the biggest artists in the music industry. As recording artists, vocalists, musicians, writers and producers, they have worked together and/or individually with artists as varied as Martha Reeves, Al Green, Elvis Costello, Mellissa Manchester, Ringo Starr, Dusty Springfield, Hall & Oates, Jackson Browne, John Hiatt, Taylor Dayne, Paul Young, Cracker, John Lloyd Young, The O'Jays, Lou Rawls, and countless others. As professional artists and musicians, they have appeared in numerous national TV shows, such as The Tonight Show, American Bandstand, Soul Train, Solid Gold, David Letterman and The Groovy Show.
The Faragher Brothers are also no strangers to Grammys. Tommy Faragher was nominated for a Grammy for his work on Staying Alive, and Davey Faragher received a Grammy in 2020 for his work with Elvis Costello.
The Faraghers have also worked on music for shows such as: the original Brady Bunch Theme, Beverly Hills 90210, The Odd Couple, The Beverly Hillbillies, Pop Stars, Mannix, One Day At A Time, Ally McBeal, The Crazy Ones and Glee.
They have worked on movies such as Staying Alive, Step Brothers and Scarface.
The complete credits are too long to list, but if you listened to music over the last few decades, chances are you've listened to the Faraghers.
Social Links