Jason Joseph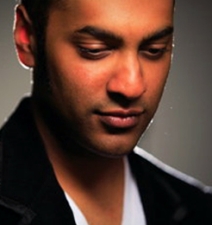 JASON JOSEPH's story reads like a Coen brothers movie...he was born in Des Moines, Iowa, America's heartland, the son of Indian immigrants from Kerala, a coastal state with a large Christian population in southern India.

The AM radio introduced Jason to the music that would shape his own artistic vision. From Marvin Gaye to Michael Jackson, Johnny Cash to Donny Hathaway, these voices, intermingled with the tabla and dhol of India, melded into a stylistic gumbo that shaped his sound as a writer and singer.

After attending college at the University of Florida and Berklee, Jason moved to Los Angeles to pursue the dream. In L.A., he quickly became integrated into the independent music scene performing regularly at the Temple Bar, Molly Malone's, and the Libertine. His singing quickly caught the attention of songwriters and producers, and Jason was soon singing on tracks for Hollywood Records, Warner Brothers, and the Cartoon Network while also delivering show-stopping performances alongside the likes of Missy Elliot, Akon & Erykah Badu.

Through all of this, he was writing the songs that have become his first studio album, Out Of My Mind: Side A. Produced with the help of Charlton Pettus and Ryan Freeland, Out Of My Mind: Side A captures this young artist at the peak of his creative powers, assimilating the sounds of his childhood into a strong personal statement.

Out Of My Mind: Side A is at its core a soul record – it speaks straight from the soul and instantly touches the heart with songs covering issues from love to politics, despair to hope. With one of the great soul voices of our time, Jason Joseph has made a work that would have seemed impossible 10 years ago...a soul record by an Indian singer from the heartland of America. Things change.
Social Links